Summary rating from user's marks. You can set own marks for this article - just click on stars above and press "Accept".
Accept
Virtual Realities VR2200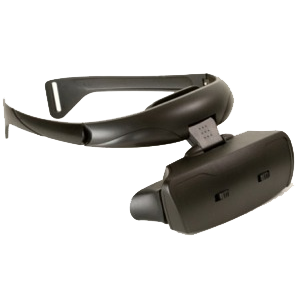 Virtual Realities VR2200 is a high resolution XGA headset designed for almost any 3D PC and 3D Video application you can think of. The VR2200 comes with a hefty price tag, with the standard version alone being $1,299. Included with the headset are an elastic headband and ear buds for sound. A more expensive option, called the Ruggedized version, comes with a head mounted ratchet assembly and external headphone speakers and costs $1,699. Accessories include a mini to RCA pin audio cable, VGA, DVI and Composite input cable, audio/video cable, eye-cups to block all external light, AC adapter, battery, charger and exclusive 2 year warranty. An extra battery and charger can be purchased for an additional $125 for either the standard or Ruggedized version. The VR2200 is a great step into the world of virtual reality, but the high price point might put off many on the consumer level. However, healthcare professionals, NASA and the United States Navy have no problem buying such a headset at the VR2200's current price point.
The VR2200 can connect to any composite or S-Video source such as a TV, DVD player, Camcorder, Xbox 360, PS3 or Nintendo Wii. This is on top of its ability to connect to any computer via SVGA or DVI video source. Unfortunately, the VR2200 is only compatible with Windows XP, Vista and 7, both 32 and 64 bit, leaving Mac and Linux users unable to use this headset. The VR2200's unique movement tracking system permits users to encounter their image or video in full 3D surround viewing as they move their head by tracking motion on all axes. It's worth mentioning that the VR2200 does offer both 2D and 3D stereoscopic modes and consumes only 6V of power.
The VR2200 display offers a resolution of 1024 x 768 XGA and 800 x 500 SVGA with a 45° diagonal field of view and full 360° viewing angle with custom designed optics. The display offers 24-bit true color, a brilliant high contrast ratio of 800:1 and fully adjustable interpupillary distance (IPD). Allowing for full adjustment of the IPD will allow users to decrease or increase the lens separation that is specific to the distance between their own eyes, which corrects blurriness that results from improper pupil to lens centers. Other adjustments consumers can control are brightness, contrast, sharpness, color and volume. It should be noted that Stereo 3D is compatible with Windows 7, on PCs equipped with any ATI or NVIDIA card, and is 3D DVD compatible as well. The VR2200 is considered plug and play with virtually all PC applications, and hopefully someday we'll see Mac OS compatibility as well.
The Virtual Realities VR2200 is a small form factor, lightweight virtual reality solution that doesn't require additional hardware or software for PC users, making it a big step into the virtual reality headset market, as it is consumer friendly right out of the package. The smaller, snugger headset with included elastic headband makes it less bulky and better fitting than one would imagine. The headset display piece flips up when not in use, leaving you able to quickly enter and leave the virtual setting you're in. Overall the VR2200 is an impressive headset, and we are happy to include it in our list of iReviews 2015 best virtual reality headsets.
Related YouTube videos:
Embed: <a href="http://vr-headsets.ireviews.com/virtual-realities-vr2200-review"><img src="http://www1.ireviews.com/images/2015-iReviews-bronze-badge.png" alt="Virtual Realities VR2200 iReview"/></a>