Summary rating from user's marks. You can set own marks for this article - just click on stars above and press "Accept".
Accept
Technical Illusions castAR
Price:
$345
Pros:
1. Affordable
2. High Resolution
3. Wearable over prescription eye wear.
Cons:
1. Must purchase AR/VR clip-on to experience virtual reality.
Back to reviews
Visit website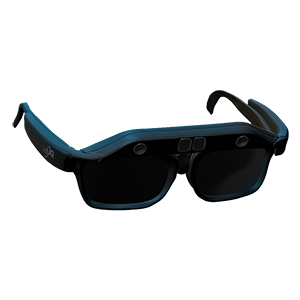 Technical Illusions castAR is a different direction when it comes to virtual reality. Instead of hiding your eyes within a headset and display unit, the castAR glasses project 3D holographic images in front of your eyes. One can either see a virtual layer on top of a weird world or immerse themselves inside a game world. Additional castAR glasses can use the same surface without any conflicts, so multiple users can benefit from a single display. This is the first news of a 3D reality system that can be experienced by multiple people at the same time, even if they're projecting different experiences.
Able to fit over prescription eyewear and weighing less than 100 grams, the CastAR offers one of the most consumer friendly designs to date. Using two micro-projectors and a sheet-like material called "retro-reflective", the micro-projectors shine out onto the special surface in the same way you watch a movie on the big screen. The current pre-order consumer package includes the CastAR glasses, Magic Wand and a 1 meter by 1 meter retro-reflective surface, all for $345. A larger retro-reflective surface, which is 1 meter by 2 meters, is available for pre-order for an extra $35. Additional Magic Wands cost $65 and the AR/VR clip-on is available for an additional $85. No delivery date has been announced as of yet.
The final version will have a 1,280 x 720 resolution per eye, and up to 120 Hz refresh rate with a 65° field of view. The glasses also have a mobile phone style tracking camera embedded, offering a 2560 x 1920 resolution and 120 Hz scanning rate. Internally, the castAR uses a Gyroscope and Magnetometer with a 1000 Hz rate for sensing movement. Overall the system, both projecting and tracking, uses very little power, consuming less than 500 milliamps. On their own, the glasses only offer AR (augmented reality) and require the AR/VR clip-ons to experience true virtual reality. The additional price point for the clip-on VR unit, however, is hardly much of a take away from the attractive idea of this system overall.
The AR/VR clip-ons easily attach to the castAR glasses and use a series of optics to turn the castAR experience into an entirely immersive virtual reality experience. They provide a low distortion, crisp, vivid image compared to other near-eye VR display units, while still being user friendly and working with prescription eyewear. The field of view for the AR/VR clip-ons is expected to be a minimum of 90° and does not require the special retro-reflective surface to work.
The included castWand controller for the system is a single-handed joystick that is completely tracked in 3D space, which provides the software with full positional and rotational data. The Magic Wand can be used as a wrecking ball in a city demolition, a sword in a virtual battle or unit selecting within an RTS environment. Using the same tracking system as the castAR glasses, you can poke, prod, flip or turn anything within your 3D environment. Containing a thumb stick, trigger and multiple input buttons, the castWand truly allows for comprehensive immersive play, manipulations and flexibility.
Technical Illusions castAR is a step in the right direction for consumer friendly augmented reality, and if the AR/VR clip-ons are purchased as an add-on, it is a great step in the right direction for virtual reality as well. The potential for a holodeck type room, outfitted with the special retro-reflective material, certainly adds a special appeal to the castAR system. The Technical Illusions castAR glasses close out our list of iReviews 2015 best virtual reality headsets.
Related YouTube videos: