Summary rating from user's marks. You can set own marks for this article - just click on stars above and press "Accept".
Accept
Oculus Rift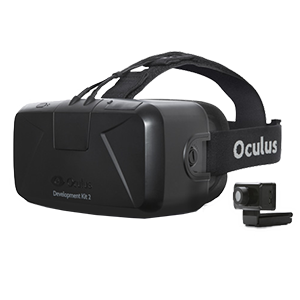 The Oculus Rift is in its second stage of development with Developer Kit 2 having just been released on March 19, 2014. Sadly, there is no news of when a consumer version will be available or what its price point will be. Rift's DK2 is priced at $350 and comes with the headset, 2 pairs of vision lenses, external camera for positional tracking, a USB cable for the camera, HDMI-DVI adapter, sync cable, power cord with an adapter and 3 power adapters for users in the UK, AU and EU. Though the Oculus Rift requires users to be tethered to a computer, it has an advantage over Samsung's Gear VR and Sony's Project Morpheus, in that it is compatible with more than just a single operating system.
The Oculus Rift requires connection to a PC, and is compatible with Windows, Mac OS X, and Linux. Whereas Samsung's VR headset requires a Note 4 smartphone, limiting its operation to the Android operating system and Sony's Project Morpheus requires a PlayStation 4 to work. By having the Oculus Rift support not only Windows but Mac OS X and Linux as well, Oculus opens the door to a greater number of developers and consumers alike, who can use the Rift without needing to buy a secondary device such as a smartphone or gaming system. On top of this, computer systems have the capability to have components upgraded, unlike smartphones or gaming systems, allowing even more power behind the machine that is running software designed for the Oculus Rift.
It is worth noting that the display on the Oculus Rift offers 1920 x 1090 pixels with a 100° field of vision. This is split to be 960 x 1080 per eye with a refresh rate of 75 Hz, 72 Hz or 60 Hz. The OLED display is classified as low persistence at 2ms and 3ms, which eliminates motion blur and judder, and is said to help with the problem of simulator sickness. Panning motions on most display technologies create an unfortunate amount of motion blur and juddering, which are caused by a low refresh rate and high persistence. The low persistence display and motion traction system on the Oculus Rift put it ahead of the game in functionality and visual user friendliness. Oculus Rift's DK2 unit offers a gyroscope, accelerometer and magnetometer for internal sensing with an update rate of 1000 Hz and a near infrared CMOS sensor with a 60 Hz update rate for positional tracking.
With Oculus working so hard to develop the Rift for consumers, the time they're taking to go from concept to consumer reality will hopefully be well worth it. Having the advantage of multiple operating systems to work on, the Oculus Rift can be used by many consumers once available to the public. The Rifts DK2 is currently compatible with Windows 7 or 8, Mac OS 10.8 or above or Ubuntu 12.04 LTS. Computer requirements for the Oculus Rift are at minimum; 2 USB ports, one powered at minimum and a DVI-D or HDMI graphics output. It is recommended that the graphic card has the capability of playing current 3D games with at least a 1080p resolution and 75 frames per second for more. With all of these features, as well as seemingly endless potential, we are happy to include the Oculus Rift on our list of iReviews 2015 best virtual reality headsets.
Related YouTube videos:
Embed: <a href="http://vr-headsets.ireviews.com/oculus-rift-review"><img src="http://www1.ireviews.com/images/2015-iReviews-silver-badge.png" alt="Oculus Rift iReview"/></a>